Werme, Paula J. advs. Professional Conduct Committee - #00-N-056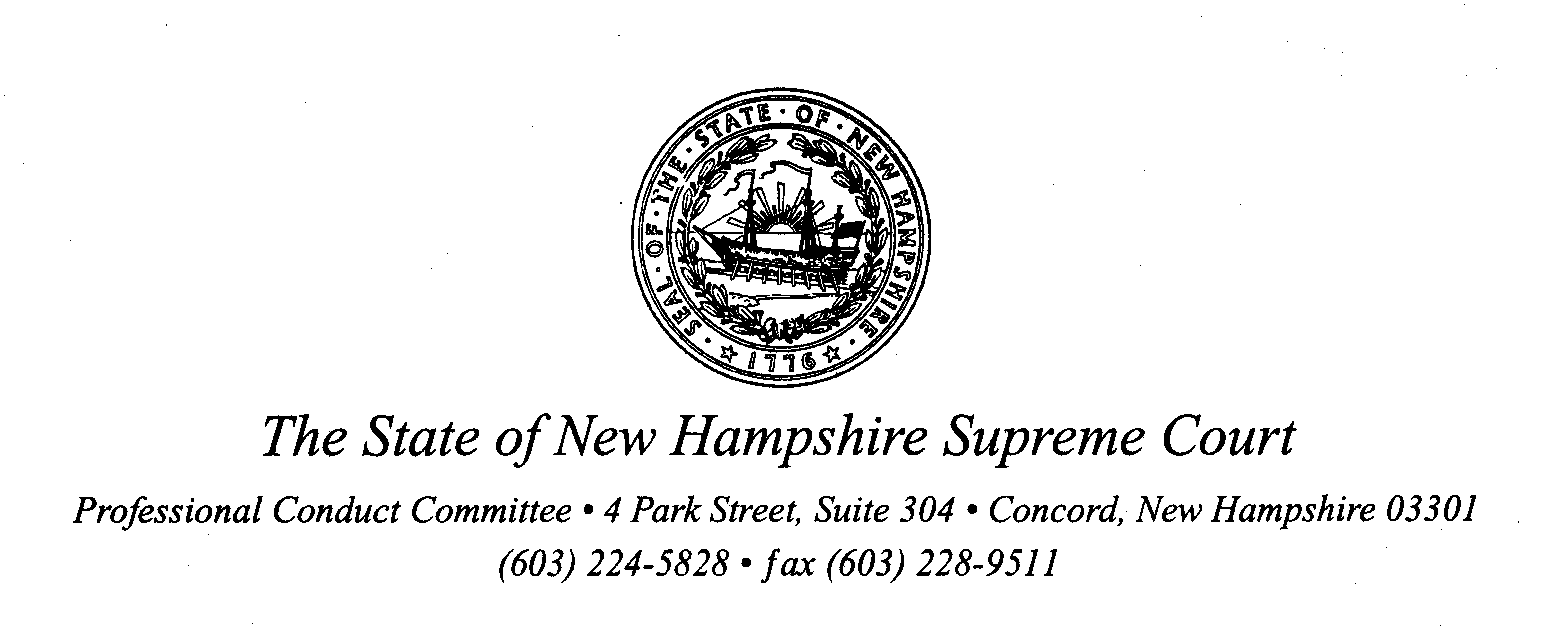 October 15, 2001
Certified Mail #7000 0600 0029 2998 2293
Return Receipt Requested
Re: Werme, Paula J. advs. Professional Conduct Committee - #00-N-056


NOTICE OF CHARGES

To: Paula J. Werme, Esquire
83 North Main Street
Boscawen, New Hampshire 03303


In accordance with New Hampshire Supreme Court Rule 37A(3)(b)(2), you are hereby notified that a hearing on the above entitled matter has been scheduled for Wednesday, November 14, 2001 at 1:00 p.m. at the Administrative Office of the Courts Building. Noble Drive. Concord. New Hampshire. Will you please inform the receptionist of your arrival.

In this complaint the Committee called your attention to statements made in Michael J. Kiely's RESPONSE TO MOTION FOR SUBSTITUTION OF COURT APPOINTED COUNSEL which states that you have made numerous allegations against Mr. Kiely which Mr. Kiely has denied including the following allegations in your MOTION FOR SUBSTITUTION OF COUNSEL:
"that he (Mr. Kiely) has been virtually impossible to get a hold of, will not return telephone calls, and has degraded her when she speaks her opinions on the matter. Further, he advised her to "sign" an agreement between her and a home health aide, without looking at the agreement."
that Mr. Kiely "...has not been an effective advocate in getting all discovery involved in the matter, or in supplying her copies of discovery in the matter. These are things that a defendant in a civil action needs to have in order to effectively assist the attorney in the matter."
In denying the allegations that you made against him, Mr. Kiely has stated that he has spoken with his client several times per week on the average since the case began; that he never degraded his client or treated her badly in any way; that he has at all times listened carefully to her opinions, but has also expressed his own opinion when appropriate; that he never advised his client to sign any document without having first read it; that the document that was referred to in your motion was faxed to Mr. Kiely by his client and only after reviewing the document did Mr. Kiely advise her to sign it; that he also requested the medical records for his client's child from the Dartmouth-Hitchcock Medical Center; that, for some reason, there was a long delay before those records were mailed to Mr. Kiely and the delay did frustrate his client; that those records had just been received by his office when your motion was filed; that Mr. Kiely is offended by the allegations that you made against him as it seems to Mr. Kiely that you knew that the allegations were not true; that Mr. Kiely believes that the cover letter that accompanied the Motion implies that you knew that the allegations were not accurate; that on March 22, 2000 Mr. Kiely contacted his client and discussed the Motion with her; and that his client denied having made those allegations and stated that she had not seen a copy of the Motion or cover letter, however his client did confirm that she had retained your services and wished for Mr. Kiely to withdraw.
With regard to Judge William H. Lyons' letter of April 21, 2000, the Committee specifically called your attention to statements in the Court's Order of April 21, 2000 that pursuant to the Court's Order of April 7, 2000 the Court held a hearing on April 19, 2000; that prior to that hearing Mr. Kiely's ex-client had filed a typewritten letter asking that the Court reconsider its disqualification of you as counsel and to allow you to represent her; that the Court found that you had come into the courtroom and notwithstanding the Court's prior order and RSA 169-C:14, you advised the Court that Mr. Kiely's ex-client had privately retained you by borrowing money which you had deposited into your trust account; that according to the letter filed with the Court, this occurred on March 18, 2000; that it was on March 19, 2000 when you signed the Motion for Substitution of Court Appointed Counsel; that there is no provision in the law for collecting a retainer for legal services and asking for an appointment for the excess; that the Court believes that your conduct in simultaneously accepting a retainer and asking for reimbursement from the State for legal services appears on its face to violate multiple provisions of State law; and that the failure to disclose the private retention of counsel raises issues of ethical dimensions separate and apart from the possibility of a criminal prosecution.
In response to the letter from Judge Lyons you wrote to the Committee on April 8, 2000, prior to the Committee docketing this matter, stating that you can and should reply whether or not the Committee feels that a response is necessary; that you were trying to represent to the court what your client told you about her relationship with Mr. Kiely; that she had strong objections to his representation and was extremely worried about the outcome of her matter if he was her counsel; that it was an oversight on your part not to obtain an affidavit from her, but you represented what your client told you were the facts; that although your recollection is "fuzzy" you think that the motion was preceded by a telephone call to Mr. Kiely's office requesting his withdrawal; that according to your client, after you filed the motion Mr. Kiely claimed he wanted to verify it with your client and paged her at work; that your client told Mr. Kiely that he couldn't discuss the matter there; that Mr. Kiely apparently took that as a denial of her stating that she wanted you to represent her instead of him; that your client was afraid to tell him face to face so she could well have mangled the conversation; that you would not have reported Mr. Kiely's conduct to the Committee without giving him a chance to reply; that you separated the issue of adequacy of his legal representation from the issue of your client's wishes and tried to explain to him that there was another dynamic taking place with Judge Gerald Taube that you were not at liberty to discuss; that you told him that because of that dynamic, you worded the motion "stronger" than it "had to be" because your client really wanted you as counsel; that your were expecting Judge Taube to recuse himself; that Judge Taube did recuse himself; that Mr. Kiely's reply reflected his belief that you had lied to the court; that you had not lied to the court; that you just would not have been as specific naming conduct had it been anyone other than Judge Taube; that there is obviously a problem with Judge Taube naming you in particular as court appointed counsel for clients before him; that you tried to give Judge Taube, with the facts at hand, a reason to relieve Mr. Kiely of his duties, and a reason independent of the client's wishes; that taking Mr. Kiely's response to the court as he knew it, you think that there is room for reasonable minds to differ; that you were in fact satisfied that it was a genuine disagreement between Mr. Kiely and your client and you did not believe that you had a duty to report his conduct to this Committee; that you and your client did discuss Mr. Kiely's reply and she reiterated her belief that he had done all of the things that you had put in the motion concerning his representation; that you had some correspondence on whether or not he was going to file a withdrawal, but you were afraid to push the matter in case the court denied his withdrawal and ordered the case to be tried on Monday; that you knew that if the judge ordered the case tried, you needed his intimate knowledge of the case; that under those circumstances you would have been happy to co-counsel and would have advised your client to do so; that you can't recall if you discussed this with Mr. Kiely but know that you discussed it with your client; that you were confident that unless the court refused to allow his withdrawal, that he was intending to do so; that Mr . Kiely cooperated in delivering the file to you, although not as quickly as you would have liked; that another issue that this Committee needs to be aware of is that you filed an Appearance with the Motion to Substitute Counsel; that this is the second time that a court has not recognized your appearance in a matter, the first being in Brentwood, which will be addressed separately; that as long as there is no rotating list of counsel, contract attorneys, or public defenders, which would preclude a request for specific counsel, you do not see where there is any rule prohibiting a request for specific counsel; that you see a fundamental due process issue when one statute calls for the appointment of counsel and has no rules by which those counsel are chosen; that if attorneys practicing in this area are relying on the "good graces" of the court for court appointments, then they cannot advocate for their clients zealously and without conflict; that your client complained several times that Mr. Kiely indicated numerous times that he was very concerned about being in Judge Taube's good graces; that in addition, some courts have appointed you on request and others have not; that up until December 1999 you have paid little attention to whether or not courts were willing to appoint you and tried to advocate zealously for all of your clients; that only in cases involving Judge Taube has the issue turned personal, have your pleadings been ignored as though the appearance was never filed, or has the court considered the Request for Court Appointed Counsel as a request to represent a client that the court had a right to deny; that as you see it, if you have filed an appearance, then it is fundamentally a request for payment and you are the one at risk if it is denied; that you are extremely upset that your client must accept different counsel at this point; that her case is a factually and medically complicated case and your library medical books on child abuse were a great help in preparing for trial; that you had not even had a chance to look over the discovery materials as you had just received them from Mr. Kiely the day before your letter; that the court's rescheduling the trial for April 19, 2000 reflects the court's disregard for the necessity of trial preparation; and that you certainly have no control over whether or not the Committee wishes to generate a complaint on this matter, but if they do so, you have nothing further to reply.
In a supplemental response to this complaint by way of a letter dated May 9, 2000 you stated that although you had indicated that you had nothing further to say in your prior letters, you wish to supplement your response with the substance of pleadings filed in Superior Court on a Writ of Mandamus; that you could not find jurisdiction in the Superior Court for a direct appeal, hence the Writ of Mandamus; that the court denied the Writ based on the potential conflict with Judge Taube and that the District Court had not clearly stated in its order that it had no plans to remand the case back to Judge Taube if you were gone from the case; that because the judge felt that the trial could continue before Judge Taube if you remained out of the case, he refused to grant the Writ; that the court otherwise accepted the following evidence that you had no intent to deceive the court; that to the extent that you filed the Motion for Substitution of Counsel and did not clearly represent that the allegations were based on your client's representations, you admit that you erred; that you did represent to the court what your client had represented to you and never had any intent to either deceive the court or to perpetrate a fraud to the court; that your letter goes on to recite the substance of the numbered paragraphs that were included in your Writ of Mandamus; that paragraphs 13 through 15 of your supplemental response include the following responses to the extent that the complaint raises questions whether your conduct was fraudulent:
Undersigned attorney then appeared at the Court on April 19, expecting to refile her appearance for purposes of arguing the motion for reconsideration. The clerk told her that she would not accept the appearance. Undersigned attorney told the clerk to deliver it to the judge.
The clerk then came out from the back and told undersigned attorney that she was not going to be admitted to the Courtroom because she was disqualified. Undersigned attorney then proceeded to enter the Courtroom with the other litigants. Following along wait for the judge to appear from chambers, during which time the bailiff approached undersigned counsel at least once, and then turned around, the judge appeared and indicated his new concerns about the fact that he had concerns about undersigned attorney violating state law and perpetrating a fraud on the Court by requesting Court appointed counsel when her client had paid her a retainer. She was not. RSA 604-A:2 states the factors the Court is to consider in appointing counsel in criminal matters. The income and assets of the Petitioner are the only factors for the Court to consider. There is no corresponding statute laying out the required inquiry for appointment in civil matters.
(emphasis in original)
At no time was there any expectation by undersigned counsel that both the Court and the client would be billed for the same time. The request for appointment was done to save the petitioner the money she did not have, and would have owed to a third party had there been no Court appointment. The anticipated effect of appointment on the attorney's income was expected to reduce her billing fees by half, to the Court-appointed attorney rate. Undersigned client had requested to have her appointed as counsel in another case in the same Court (although with a different judge), long after the retainer money had been completely used, and despite the fact that the appointment was denied, she continued to diligently represent her client to the Supreme Court. Both of the Supreme Court cases she has now had accepted involved substantial amounts of time that was either not billable at all or not remotely collectible. In one case, the client paid her less than $300, and in the other, she attended one day of adjudicatory at the District Court, several days of motion hearings, the Dispositional, pretrial conference in the Superior Court, 4 days of trial in the Superior Court, and traveled to Dartmouth Hitchcock herself to do medical research, for a retainer substantially less than $1000. Following Court appointment, not one minute of time prior to the date the Court appointment was signed was billed to the Court. There is likely not another attorney in the state of New Hampshire who works so hard for her clients for the small sums they are able to pay her.
The preceding paragraphs are only a summary and reference is made to your replies to the complaint for further details.
Involved in this complaint are questions under the Rules of Professional Conduct, in particular, but not limited to Rules 1.2(d); 1.5(a); 3.1; 3.3(a)(1); 3.4(c); 8.4(a); 8.4(b) and 8.4(c). Specifically, questions exist as to whether, by making the allegations that you included in your Motion for Substitution of Counsel, you knowingly made false statements of material fact to a tribunal; whether you asserted an issue on behalf of a client without a good faith basis for doing so and whether you engaged in conduct involving dishonesty, deceit and misrepresentation. Questions are also raised as to whether your acceptance of a retainer from your client, while simultaneously asking for .J appointment as counsel and asking for reimbursement as court appointed counsel constituted assistance to a client which you knew or should have known was criminal or fraudulent; whether that conduct constituted a violation of the rules of the tribunal before which your were practicing and whether, by engaging in that conduct you committed a criminal act that adversely reflected on your honesty, trustworthiness and fitness to practice law.
You are instructed to bring your underlying client file with you to the hearing.
You are reminded that the Committee issued a protective order concerning this matter on April 6, 2001 that when a hearing is held, all materials that are submitted as part of the record, and those materials that will become part of the public file, will be required to have proper names redacted so as to avoid violating the intent of RSA 169-C:25. You are also reminded that the Manchester District Court issued an Order in the underlying matter on May 18, 2001 in which the Court authorized the Committee access to the materials, including transcripts, in the underlying case, pursuant to its authority in RSA 169-C:25 (I), for use in a public disciplinary hearing. The access and use of that material was specified to be subjected to the following restrictions and protective orders. The minor and minor's parents last names and addresses shall be redacted before any use as well as any other information that would identify them.
You are hereby advised that any failure to attend this hearing may subject you to findings of professional misconduct and to the imposition of or request for appropriate sanctions.
Any and all further notices concerning this hearing, including any adjournment thereof, shall be given by Robert C. Varney, Chair of the Committee. There will be no continuances except for extremely good cause shown.
You are advised that you may be represented by counsel at the hearing and that you may have witnesses present and may present evidence on your own behalf.
Pursuant to Supreme Court Rule 37(17)(b)(2), this Notice of Charges and the Committee's file (other than work product and internal memoranda of the Committee) is now a public file and the proceedings before the Committee (other than deliberations) and the decision, shall be public, subject to the above referenced protective orders.
It is important to note that in any given matter, not every member of the hearing panel is likely to have read the entire file. For this reason you should be prepared to present your position at the hearing. To the extent that additional documentation will be presented, it is requested that at least four copies be submitted to the panel.
Professional Conduct Committee By: /s/James L. DeHart, Administrator
JLD/ksc
cc: Robert C. Varney, Chair
Bruce A. Cardello, Hearing Panel Chair
F:\OFFICE\WPWIN\DOCS\HEARING\00N056.NOV