Reprimand - #00-N-036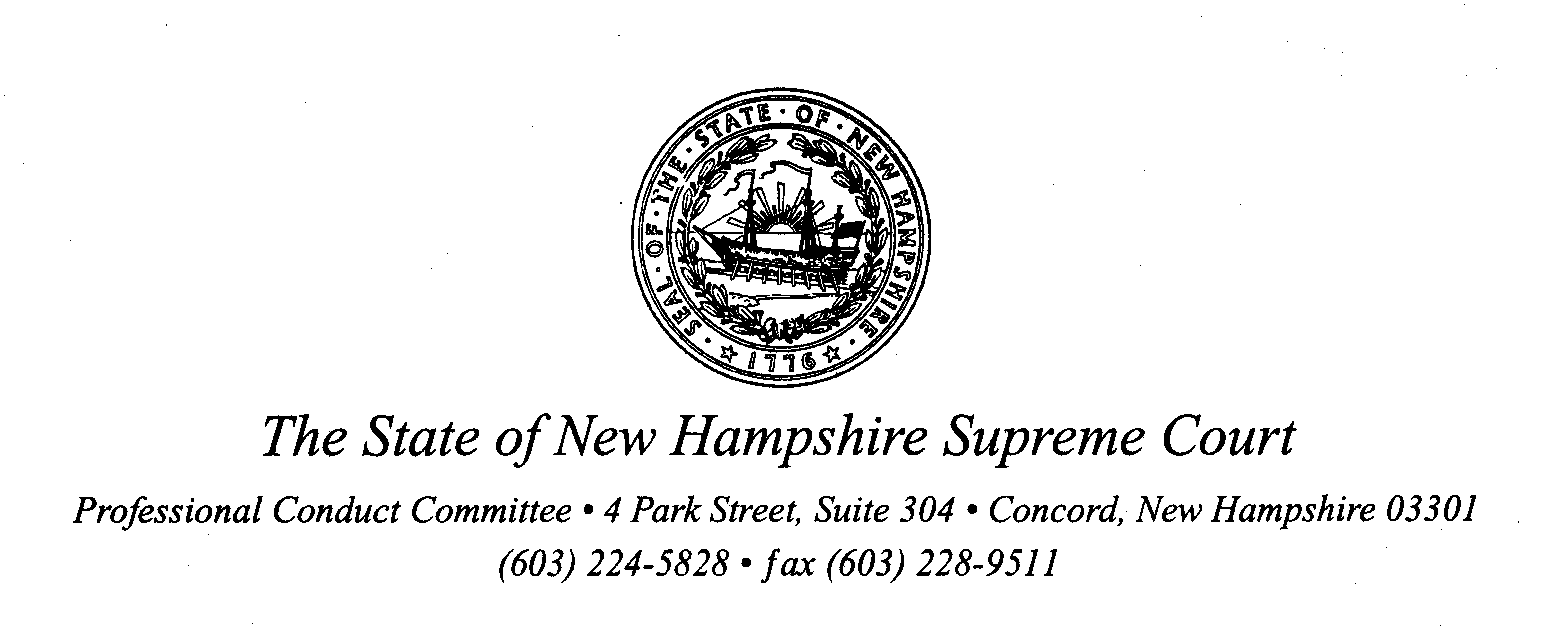 July 26, 2002
Paula J. Werme, Esquire
83 North Main Street
Boscawen, New Hampshire 03303
Re: Werme, Paula J. advs. Professional Conduct Committee -#00-036
REPRIMAND
Dear Ms. Werme:
At its regular meeting held on Wednesday, July 17, 2002, the Professional Conduct Committee thoroughly reviewed the entire record of the above entitled matter. After giving due consideration to this record the Committee finds that your statements in your pleading that Judge Taube had intentionally misrepresented and fabricated facts constitute a violation of the Rules of Professional Conduct. In pertinent part, Rule 8.2(a) states that "(a) lawyer shall not make a statement ... with reckless disregard as to Its truth or falsity concerning the ... integrity of a judge(.)" The issue that was before the Committee was whether the facts known to you as of February 7, 2000, the date on which you filed the offending motion, justified your accusations, or whether your failure to conduct further investigation before making the accusations constitutes "reckless disregard" as to their truth or falsity. The Committee reviewed in detail the chronology of events leading up to your second Motion to Recuse Judge Taube, filed on February 7, 2000 and made the following specific findings of fact:
That you knew that the Court had appointed guardians ad litem, not attorneys, for both parents.
That you had written to Judge Edwin W. Kelly requesting District Court procedure on appointing attorneys in abuse and neglect cases, but it seems that you received no relevant response.
That you had moved to continue the Preliminary Hearing based on a previously scheduled hearing in the Franklin District. Court, but your motion was summarily denied.
That you had moved to be appointed as counsel for both parents, but the motion had been denied with the notation that the Court would address the issue of counsel with the parties at the Preliminary Hearing.
That you had specifically set forth in your answer to the Petition that you sought appointment as counselor a reason why the Court finds good cause to deny the appointment, and received no response.
That, at the Preliminary Hearing held on December 15,1999, in response to your nonconfrontational request to be appointed, the Court stated it already had counsel in place, that it would not be "dictated to,' and that it was not going to appoint you, and again repeated it would not be "dictated to" in response to your second polite request for appointment.
That although you were told at the hearing that the Court had appointed counsel from a list of counsel and that you could obtain the list from the clerk's office, when you went to the clerk's office you were told that there was no list.
That your subsequent requests to Donald Goodnow at the Administrative Office of the Courts, Judge Kelly for the District Court, and the New Hampshire Judicial Council seeking an approved list of counsel in the Brentwood Family Court for abuse and neglect cases resulted In no list being produced.
That you were faced with Judge Taube's unusual request for one of the other counsel in the case to draft an opinion for the Court as to your potential conflict of interest, a request that you state, should have been directed to you.
That although Judge Taube knew the parents were indigent, he stated that he would not appoint you, but would permit you to represent one or both parents.
From the inception of your attempted entry into this matter you were met with Judge Taube's unwillingness to continue the preliminary hearing to permit you to be there in the: face of a scheduling conference, his unwillingness to appoint you as counsel, his. his notation that he would address the appointment of counsel at the hearing juxtaposed with his announcement at the hearing that he had already appointed counsel, his statements that he would not be "dictated to" in response to your verbal requests to be appointed counsel at the December 15, 2000 hearing, and misdirection to a list that did not exist. Whether you would have received other information had you filed a motion to reconsider or clarify stating that you had been unable to obtain the list referenced by Judge Taube is a matter of conjecture. Accusing Judge Taube of deliberate fabrication without putting the issue of the missing list directly before him through a motion to reconsider or for clarification or without attempting to verify the information you had received from the Clerk's office with the Clerk of Court directly before making the accusation against Judge Taube rises, albeit it closely, to a level of reckless disregard of the truth that constitutes misconduct.
Our legal system depends on an expectation that its judicial officers will act, if not always wisely, at least impartially and honestly. Comments such as yours, without a solid factual foundation, degrade and undermine that perception. If permitted, such comments would have a pernicious effect on judges' ability to render decisions that others would follow. Your perceptions of Judge Taube' s actions were backed by suspicion, not fact. Without your having put the issue of the missing list before Judge Taube to solicit his response, or having at least attempted to verify what you believed to be a lack of a list with the Clerk of Court, your comments about Judge Taube's integrity and honesty were made with reckless disregard to the truth or falsity of the accusations.
The Committee finds that because of the above conduct you are guilty of professional misconduct and in violation of Rules 8.2(a) and 8.4(a) of the Rules of Professional Conduct.
Finally, the Committee made a finding of no professional misconduct on your part with regard to Rule 1.7(b).
This letter of Reprimand is issued because of this misconduct and a copy will be placed in your permanent file. The findings in this matter may be considered in determining the severity of discipline imposed for any further violation.
You are entitled to appeal a Reprimand by filing a written notice of appeal in accordance with the Rules of the New Hampshire Supreme Court.
The Professional Conduct Committee
By: /s/Robert C. Varney Chair
RCV/ksc
F:\OFFICE\WPWIN\DOCS\CONCLUSN\O2CLOSED\00-036.REP